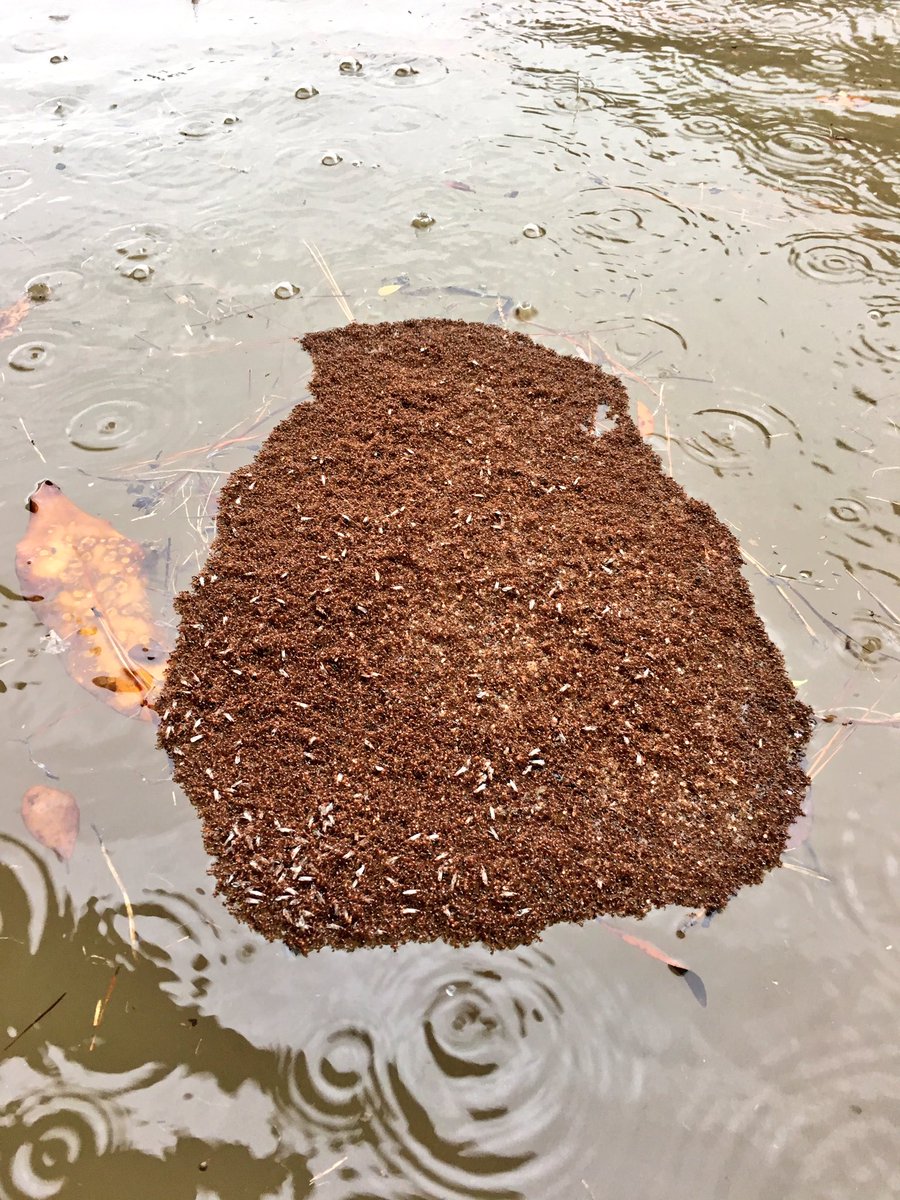 Fire ant floating colony in Houston floodwaters.
Photo by NBC DFW @

OmarVillafranca
Many in the pest control industry find themselves in the midst of the devastating floods hitting much of south and east Texas this week. If so, it may be a good time to remind ourselves of some unique pest challenges associated with high water.
Flooding brings all sorts of wildlife into unusually close contact with people, but few critters are more dangerous than fire ants. When floods occur, fire ants exit the ground and float, instinctively linking their legs and forming a
floating mat which is nearly impossible to sink
. When they inevitably bump into a dry object like a tree, a boat or a person, the ant mass "explodes" with ants quickly exiting the mass and swarming the object.
Diving underwater, or splashing water on the ants, will not help. The best option is soapy water, which is pretty good at killing the ants and helping drown a floating ant island. According to the Texas A&M AgriLife Extension publication, "
Flooding and Fire Ants:Protecting Yourself and Your Family
", two tablespoons of soap in a gallon of water, sprayed on a floating mat is effective at drowning ants. If any of you are engaged in water rescue this week, carrying a supply of soap along with a squirt bottle would be a good idea.
You might not have thought of it, but bed bugs can also become an issue after a public emergency like a tornado or flood. When lots of people are brought together in an emergency shelter situation, the risk of bed bug encounters goes up. The University of Minnesota has put together a nice
publication on the subject
. If you are in a community hosting an emergency shelter consider offering your services to inspect shelters and treat for bed bugs as necessary. Don't forget the diatomaceous earth and silica aerogel dusts as a means of providing significant control for shelter bedding at minimal risk.
Lastly, after the storm is long gone be prepared for mosquitoes. The primary mosquito species in the Texas Coastal Bend area are the
salt marsh and pasture-land breeding mosquitoes
. These are difficult to control at their breeding sites, short of aerial mosquito control campaigns. But to some extent, these mosquitoes can be controlled in backyards with residual mosquito adulticides. If your company does residential pest control, but hasn't yet gotten into the adult mosquito control business, this may be
a good time to start
. One good way to educate your customers about the mosquito threat is the
Mosquito Safari
website.